Introduction
The concept of deceiving an individual for financial gain is not a foreign concept to humans. This behaviour has been termed a "scam." We, as a civilization, have been encountering human beings who scam people for their own means and benefits.
However, since the inception of the Internet, scams have been more prevalent and have evolved to be more notorious.
Online sextortion is one of the rising scams occurring in Malaysia which falls under cyber harassment. According to the reported incidents from Malaysia's Computer Emergency Response Team (Source: MyCert), there have been 417 cases of cyber harassment in 2021.
The most notorious scam
There are many scams that prevail on the Internet, but the most notorious of them all is online sextortion scams. To state that these online scams have been detrimental would be an understatement.
Sextortion scams are one of the most damaging to individuals' mental health and their public image. This fraud primarily targets emotionally fragile people in order to abuse them for personal benefit. Their dignity and public image are exploited as a bargaining chip to force the victims to dance to their melodies.
Sextortion scams have taken the lives of many innocent victims and wrecked the social reputations of countless more who were only looking for somebody to connect with and share their lives with.
An example of a sextortion scam
Today, we will look at a real reported incident to identify the telltale indications of a scam so that we can avoid falling victim to another one in the future.
In the sextortion scam, the victim is blackmailed into paying a sum of money to the scammer, who has gotten a compromising video of them in exchange for the payment of the ransom; otherwise, the video footage will be released to his phone contacts.
Most of the time, these frauds take place on social media and dating platforms, where the most emotionally vulnerable victims are available to be picked off by scammers. Scammers build a profile, which is often of the female gender, in order to incite potential victims. The photographs that they utilize in these profiles are frequently taken from other social media users' accounts. Below, we can see an example of a scammer's social media profile.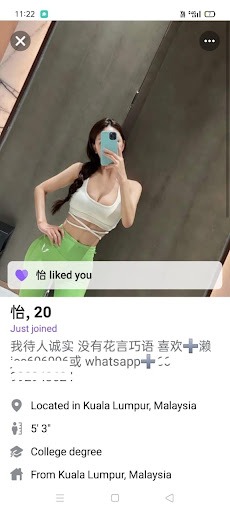 Scammers cast a wide net by following or matching with a large number of different accounts. Eventually, they will match a profile of a victim. The scammer then contacts this victim by text message, which is alluring and romantic in nature. As shown in the screenshot below.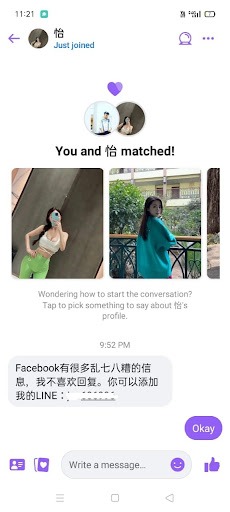 Tactics used by sextortion scammers 
Ultimately, the scammer is successful in gaining the trust of the victim. The scammer then engages in a video conversation with the victim and engages in an amorous session in order to film them during a period of vulnerability.
Once the scammer has been successful in obtaining incriminating recordings of the victim, they will begin to blackmail and extort money from the victim. Recently, scammers have been seeking payment in cryptocurrency in order to remain anonymous and avoid being discovered by authorities. Photographs and videos of the victim's embarrassing moment are bombarded upon them, along with threatening statements such as, "Deal with the situation immediately, otherwise everyone you know will find out who you really are."
In the screenshot below, we are able to see such a scenario play out.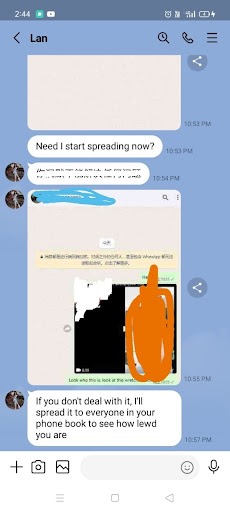 Steps you can take to stay safe and minimize risks
1) Condition Zebra's advice to sextortion victims is to always make a police report and lodge a complaint at Malaysia's Computer Emergency Response Team (MyCERT).
2) Do not open any links or attachments contained in an unsolicited email message or direct message (DM) messages from social media.
3) Buy a cover slider to cover your webcam to protect your privacy.
4) If you receive a message from someone you know asking for money, contact that person through another medium, such as by phone, to double-check the message's authenticity. Commonly, it is a scammer who is impersonating someone you know.
5) Don't give out personal information or anything on social media that can be used to aid a criminal, such as date of birth, spouse's name, or when you will be away on vacation and your home will be unoccupied.
6) Maintain the security of your desktops and mobile devices. The most effective defence against viruses, malware, and other online threats is to utilize the most up-to-date security software, web browser, and operating system available. Automatic updates should be enabled to ensure that you receive the most up-to-date patches as soon as they become available.
7) Keep yourself informed of the latest scam attempts that are making their way around the internet. For finding out about new and evolving online scams, news channels and online security blogs are the best places to turn to for updated information.
8) Employees should be provided with cybersecurity awareness training to protect themselves and the company infrastructure against these scams. Please contact us to learn more about cybersecurity awareness training.

Source:
---

Condition Zebra is a leading B2B cyber security company. Our cybersecurity team is equipped with the relevant knowledge and expertise to not only resolve but also prevent any hacking incidents from manifesting into a great loss.
Learn about our online distance training:
Network Penetration Testing is suitable for participants that have prior experience in setting up, managing or securing an organization's network.
Web Penetration Testing is suitable for participants that have basic programming language skills and prior experience in managing, developing, or testing web applications.

Business Name: Condition Zebra (M) Sdn Bhd
Address: Level 3-10, Block F, Phileo Damansara 1,
Jalan 16/11 Off Jalan Damansara,
46350 Petaling Jaya, Selangor, Malaysia.
Phone: +603-7665 2021

Follow us here:

Instagram
Facebook
Linkedin
Twitter
GMB Business Site
CREST Member Company

Share this: