Online Training
Day 1 : Monday – 9am – 1pm
Day 2: Tuesday – 9am – 1pm
Platform : Microsoft Teams Meeting
Duration : 8 hours (4 hours a day) + EXTRA 2 hours mentoring session on the
second day (2pm-4pm)
Online Training
Day 1 : Monday – 9am – 1pm
Day 2: Tuesday – 9am – 1pm
Platform : Microsoft Teams Meeting
Duration : 8 hours (4 hours a day) + EXTRA 2 hours mentoring session on the
second day (2pm-4pm)
Leading Cyber Security Company in Malaysia
CREST Certified & ISO 27001:2013
We're proud to say that our well-sought Cyber Security Services
(Penetration Testing) is recognized as an accredited service by Accreditation body CREST. CREST Penetration Testing services accreditation is a mandatory requirement by most financial institutions and reputable companies in Malaysia.
We have been awarded the ISO 27001:2013 certificate. This ensures that our services meet the International standards which aspire us to manage the integrity, confidentiality and availability of assets and information such as financial information, intellectual property, employee details or information entrusted to us by third parties – such as websites and other customers or partners.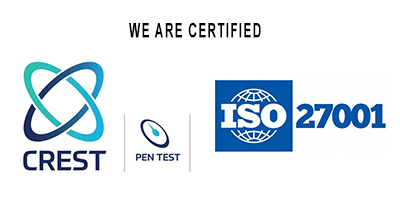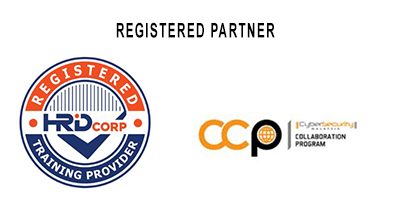 Your Cyber Security Partner
If you are looking for a Cyber Security company to conduct Penetration Testing and Vulnerability Assessment for your IT infrastructure & Assets such as a company Network, Internet (Wi-Fi), Server, Firewall, Web & Mobile applications and others, you've come to the right place.
The purpose of penetration testing is to find security problems in your IT system (network, web, and apps). To stay ahead, we apply a real hacker's mindset and techniques, but don't worry, this is done with safety measures in place to ensure your company's data and assets are protected at all times.
Our Managed Detection and Response (MDR) solution is a comprehensive cybersecurity service that utilises the real-time threat detection and response capabilities of an EDR or XDR to detect, investigate, and respond to cyber threats.
Organizations often neglect the most important and vulnerable security component: the human element. To address the weakest link, new-school security awareness training is needed to manage sophisticated phishing and ransomware attacks. That's why Condition Zebra has partnered with KnowBe4 to offer its integrated security awareness training and simulated phishing platform.
Cyber Risk Management
We provide a wide range of services to identify and defend against cyber threats. Our services include: 

Penetration Testing

Intelligence-led Penetration Testing

Source Code Review

Social Engineering Testing

Vulnerability Assessment

Compromise Assessment

System Hardening

Phishing Attack Simulation

Threat Intelligence

Information Security Policy Review

Managed Security Services
Detection and Response:
Managed Detection and Response (MDR)
Endpoint Detection and Response (EDR)
Extended Detection and Response (XDR)
Digital Forensics and Incident Response (DFIR)
CERTIFICATION TRAINING
We offer a series of highly technical training, providing practical knowledge and skills. It's 90% hands-on training with live hacking and penetration testing session in a live environment.

Hacking and Security Vulnerability Management

Network Security & Penetration Testing

Advanced Web Application & Defense

Mobile Application Hacking & Security

Digital Forensics
Protection & Recovery
Protection & Recovery is an important part of a comprehensive cybersecurity strategy that helps organizations protect their sensitive data and critical infrastructure from external threats.
Our services include:
Perimeter Security
Endpoint Security
Backup as a Service
Security Awareness Training
Employees are frequently exposed to sophisticated phishing and ransomware attacks. It is more than necessary to have integrated security awareness training and a simulated phishing platform.
Our security awareness training include:
Information Security Awareness Talk
Information Security Awareness Program
Online Training
We have adapted to provide Online Training to cope with the challenging covid-19 pandemic times since 2020 and continuing in 2023. This training includes additional mentoring sessions crafted to help IT professionals, hone their skills in Network Penetration Testing and Web Penetration Testing.
Our online training includes:
Run & Gun: Network Penetration Testing
The Combat of Web Application: Hacker vs Developer
the best it security services & training provider
Why choose us?
Condition Zebra, also known as CZ, is an award-winning company in Malaysia. Together with our years of experience in the industry, this makes us one of the best IT security services and training providers in the industry. Below are some of the key reasons to choose us for your organisation's IT security needs.

1. extensive experience
Condition Zebra has years of extensive experience in providing Information Security and Risk Management solutions.

2. malaysian cybersecurity awards
Condition Zebra won Cyber Security Education And Training Provider of The Year 2015.

3. Achieved ISO 27001:2013 and CREST accredited
We are delighted to announce that we have achieved ISO 27001:2013 certification and accredited by CREST for Penetration Testing service since 2020.

4. INTERNATIONAL COLLABORATIONS
History of long-standing involvement and International collaborations in the USA – Utah's high-tech community.

5. Hands-on training
The first organization to introduce hands-on training based on assessment reports, where prior to the training, security engineers will conduct a security assessment and provide a security analysis report on your digital asset.

6. qualified team members
Behind our success, stands our team of highly qualified IT security engineers, all the managers and staff in the sales, marketing, technical, and management team that has built a strong reputation for integrity, hard work, and quality.

7. High quality technical training
The first organisation to introduce hands-on training based on the assessment report. We have thousands of positive feedback regarding our cybersecurity training, and it's known as one of the best in the industry.

8. best practices & industry standards
We are recognized locally and Internationally as one of the best IT security services and training companies that follow the industry's best practices and methodologies.
Free eBook
No one is immune to Cyber Attacks. Start learning today with our free eBook.
Download now!
happy customers
Customer Testimonials
Cyber Security Company Malaysia – Condition Zebra, has worked with a broad range of clients to perform high quality IT security services and customized IT security training. With this experience, we have built a strong reputation for integrity, hard work, and quality.
Good experience compared to other same topic that I went in other training provider.Condition Zebra is definitely one of the best information security expert in the industry.
Condition Zebra provides high quality penetration testing with a reasonable price. We are impressed with their services and will consider them for further and future engagements.
Great training with hands-on. It definitely improve my knowledge on web application security. I would recommend this training to anyone who love information security.
Most vendors offered automated services which failed to meet my requirements. However, Condition Zebra is among the few that provide advanced manual testing and truly satisfied my needs.
Condition Zebra's training helped me understand the hidden vulnerabilities in my infrastructures and how to deal with them. this is very useful for my daily tasks. The trainer is also well versed in the area.
Condition Zebra provides high quality penetration testing with a reasonable price. We are impressed with their supportive teams and they meet the deadline we gave. Will engage with them again.