Endpoint Detection and Response
Endpoint Detection and Response (EDR) is a cybersecurity solution that protects a company's endpoints and thus keeps the internal network protected. Condition Zebra's EDR
Constantly manage and monitor endpoint security in real time.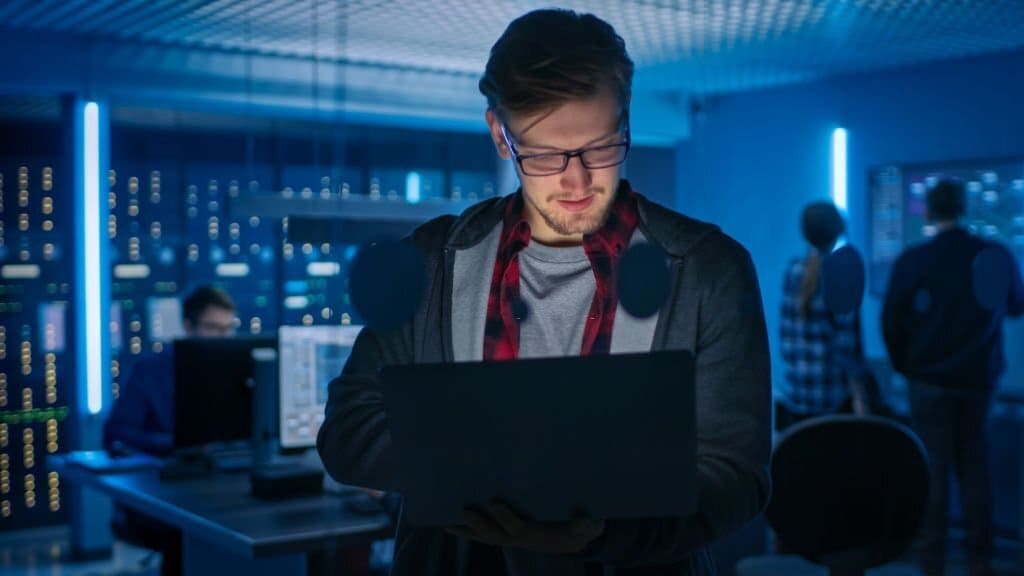 What are endpoint devices?
An endpoint is devices such as end-user computers and laptops, servers, mobile devices, and Internet of Things (IoT) devices communicating through a network.
The need for endpoint security
These devices which represent the end point of the network, pose threats because cybercriminals can exploit their vulnerabilities and gain access to the internal network.
Purpose of EDR
Its purpose is to collect and analyze data from endpoint devices for suspicious patterns and threats. If a threat is identified, it is blocked, and an alert is triggered for your security teams to respond with appropriate measures.
Managed Detection and Response (MDR) is a Managed Security Service to detect, investigate, and respond to security threats. Protect against advanced and persistent cyber threats that traditional security solutions may not be able to detect.
Our MDR solutions are powered by Kaspersky to be competitive in today's fast-moving world.
Why use EDR?
Endpoint Protection Platform (EPP) was enough to mitigate mass malware cyberattack which target separate endpoints and detonate within single computers. However, nowadays, attackers use the sophisticated tactic of launching targeted attacks involving reconnaissance and are designed to penetrate the victim's IT system and evade its protection. The attack kill chain involves many hosts of the IT system.
Due to the high variety of methods and their human-led, interactive nature, targeted attacks can evade EPP-based security. So to address this, EPP solutions are extended with endpoint detection and response (EDR) features.
In essence, EDR adds new layers of endpoint protection against advanced attacks.

What is EPP?
Endpoint Protection Platform (EPP) stands for traditional unified security systems, which include antivirus, antispyware, firewalls, and other endpoint protection solutions. This type of system controls known traditional malware threats (viruses, Trojans, worms, spyware…), and can even act against some unknown threats.

The tools that EDR use:
Artificial Intelligence and Machine Learning Tools.

Isolated virtual systems and test environments (Sandbox).
Real-time monitoring tools.
Black and white list managers for email, IP addresses and web pages.
Integration and interoperability mechanisms with antivirus and other security technologies (antimalware, SIEM, IPS/IDS…).
Forensic analysis tools for the investigation of past incidents.
Alert systems.

Features of EDR:
Providing centralised visibility of events on many hosts for their manual and automatic correlation

Providing security staff with sufficient data about events

Creating tools for response and remediation, thus countering human-led attacks with human-led cyber defence
EDRs monitor in real time the operation of all endpoint devices in an organization and the behaviour of the internal network, notifying any anomaly. Simultaneously, they generate a database that classifies files based on whether they are safe, dangerous, or still unknown. Through it, the system is in charge of managing suspicious files, executing them just as a real user would, but in an isolated and secure test environment.
Classification of attacks directed at endpoints as below. Source: Kaspersky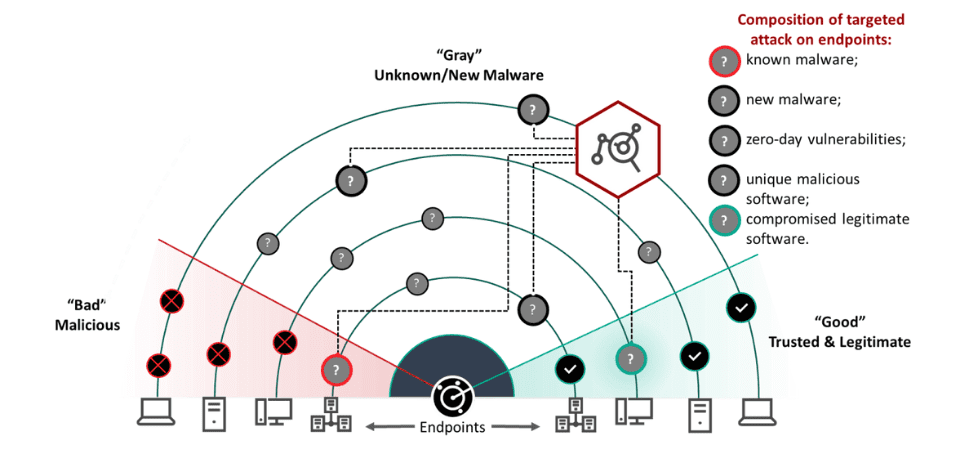 Benefits of EDR
EDR adds protection capabilities to the existing EPP solutions to anticipate, detect, and respond quickly and effectively to advanced threats.
Real-time visibility
EDR provides real-time visibility into endpoint activity, which helps detect and respond to threats in a timely manner.
Advanced threat detection
EDR uses advanced techniques, such as machine learning and behavioral analysis, to detect threats that traditional antivirus software may miss.
Incident response
EDR enables security teams to quickly investigate incidents and take necessary action to contain and remediate threats.
Improved compliance
EDR can help organizations meet compliance requirements by providing detailed reports on endpoint activity.
Centralized management
EDR allows for centralized management of endpoint security, which helps streamline operations and reduce costs.
Proactive Defense
EDR allows organizations to proactively defend against threats by identifying vulnerabilities and misconfigurations in endpoints before they can be exploited.
Level 3-10, Block F, Phileo Damansara 1, 46350 Petaling Jaya, Selangor, MALAYSIA.
Schedule a FREE CONSULTATION to learn more about Condition Zebra's Endpoint Detection and Response – Schedule Appointment or Whatsapp